Amino acid cleansing gel to selectively remove oiliness and impurities.
Details
#Heavy makeup &
blackheads
Cleansing Oil
#Deep cleanser
for ultrafine particles
Cleansing Foam
Cleansing Gel Mild and clean #for dry and sensitive skin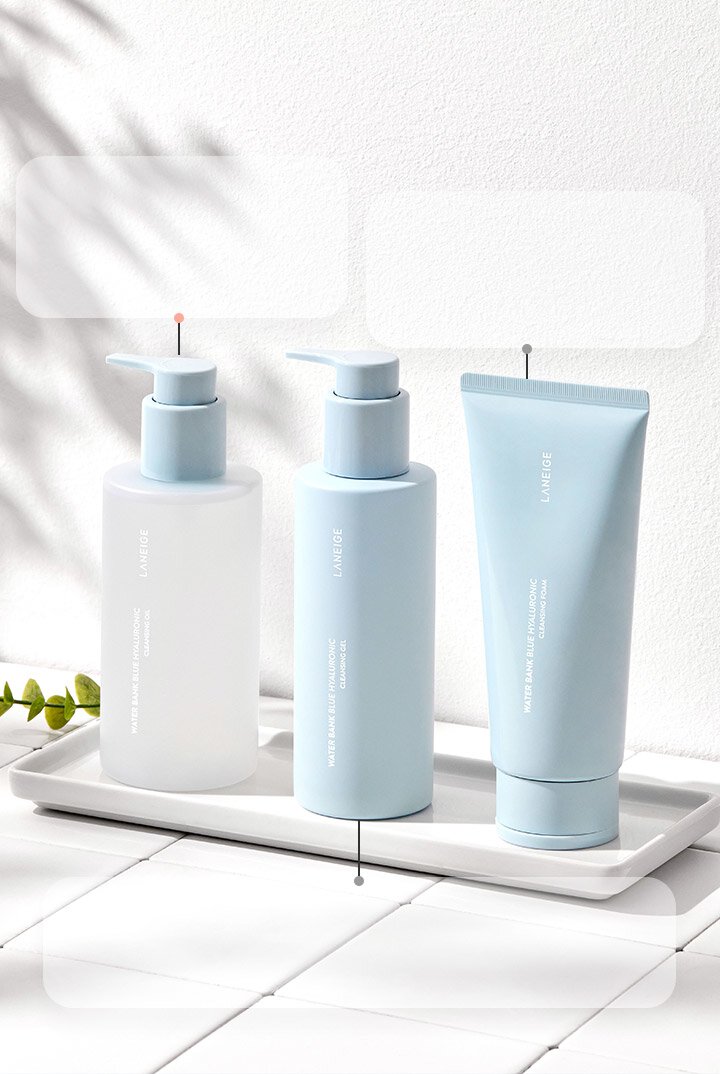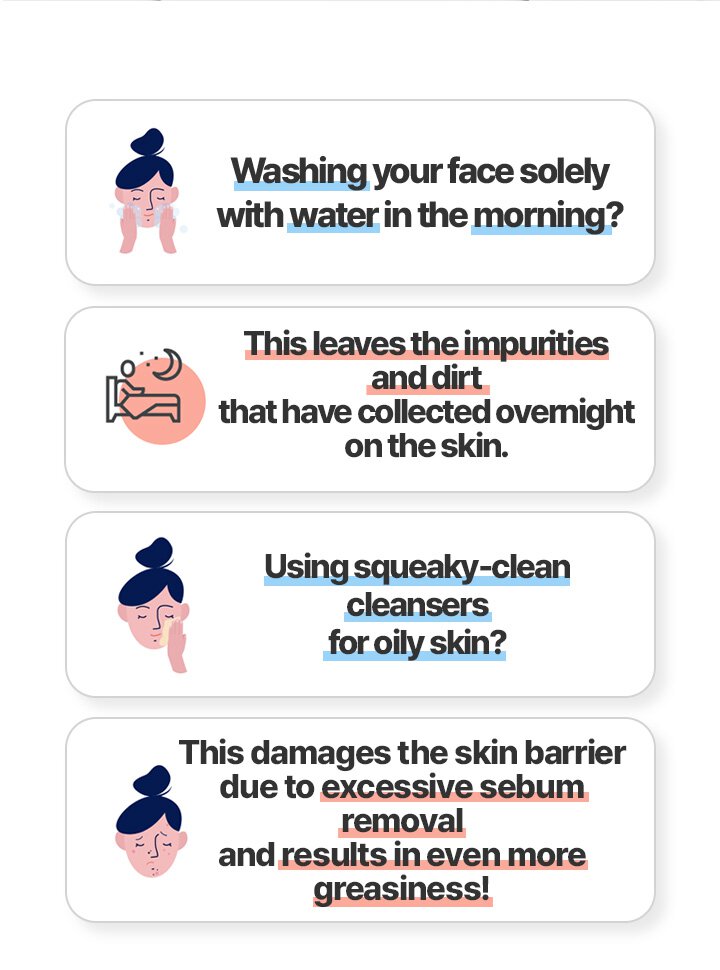 Washing your face solely
with water in the morning?
This leaves the impurities and dirt
that have collected oevernight
on the skin.
Using squeaky-clean
cleansers
for oily skin?
This damages the skin barrier
due to excessive swbum
removal and results in even more
greasiness!
No more water-only or squeaky-clean washing.
#No skin irritating habits!
WARNING!
Cleansing matters as much as skincare
in the morning and for sensitive skin!
Cleansing is part of your skincare routine!
The safe 99.8% biodegradable formula
removes impurities from the pores
and replenishes the skin with moistness.
Pore Moisturizing
Cleansing Gel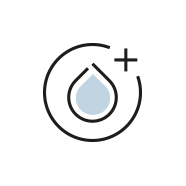 #Oiliness removal

#Amino acid cleanser

#Mild and pH-balanced
Water Bank Blue Hyaluronic Cleansing Gel
ALL NEW
Water Bank Blue
Hyaluronic
Cleansing Gel
Mild cleansing gel with amino acid
to selectively remove oiliness and
impurities without causing inner-skin tightness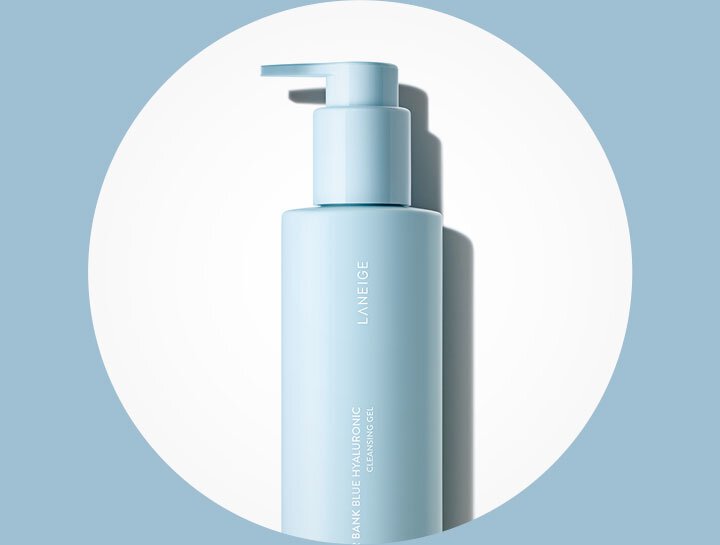 KEY
BENEFITS
01

No inner-skin tightening Mild amino acid cleanser
Water Bank Blue Hyaluronic Cleansing Gel
Mild cleansing gel
with 6 kinds of moisturizing amino acid
to keep the skin moisturized even after cleansing,
to the same level of having a skincare routine.
Moist formula without inner-skin tightening,
containing 6 kinds of amino acid
and Blue Hyaluronic Acid.
02

similar to healthy skin

pH-balanced

cleanser
A rare foaming ability
for a cleansing gel!
The soft gel formula turns into a soft and rich foam
then reduces skin irritation
and balances the skin pH to keep the skin barrier healthy.

Water Bank Blue Hyaluronic Cleansing Gel
03

Sustainable formula

99.8%

biodegradable!
A sustainable formula that reduces the impact of the product
on the aquatic environment
and focuses all the goodness of the product into the skin.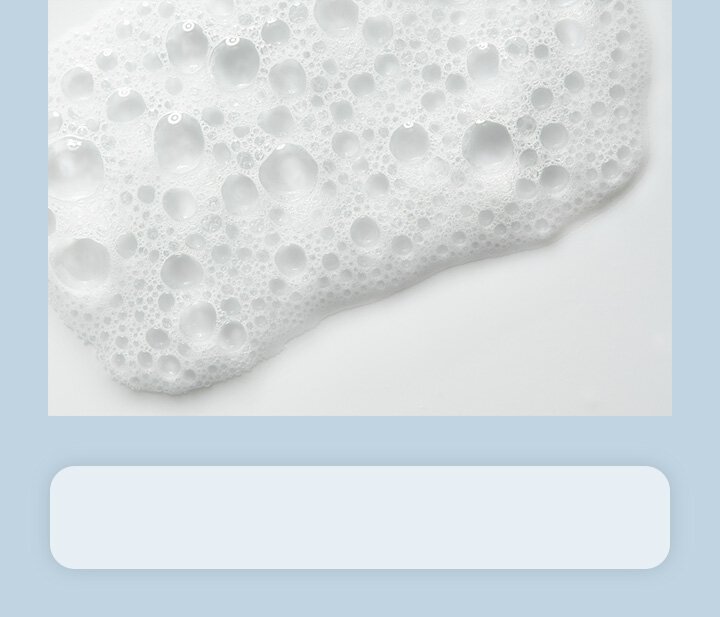 Water Bank Blue Hyaluronic Cleansing Gel test
A thorough cleansing effect
for sebum and impurities
as well as for foundation and
light makeup!
Micro-sized Blue Hyaluronic Acid,
enhanced using LANEIGE's patented
manufacturing process
"The next gen hyaluronic acid, the Blue Hyalronic Acid. The extraordinary evolution of the hyaluronic acid. As the 7th generation, Blue HA is 1. Fermented twice using algae-derived fucoidan for amplified effects 2. Has 300% enhanced repair & moisturizing capabilities. 3. Concentrated and refined in 10 steps, condensed from a size of a water cup to a water drop at 0.5kDa. Being 1/2000 size of the original HA, the micro sized Blue HA instantly reaches the 10th layer of the skin 263 times faster deeper into the skin thoroughly and effectively. Fully repair and replenish your skin with Blue HA. ALL NEW Water Bank. Blue HA Cream & Serum"
01 Micro-sized Blue Hyaluronic Acid,
1/2000* the original size.
The difference in skin absorption comes
from the molecular size!
02 Repair and Replenish!
300%* improvement of a damaged
skin barrier.
*Compared the sizes of HA previously used by LANEIGE
(1,000kDa) with the smallest Blue HA (0.5kDa).
**Limited to the properties of Blue Hyaluronic Acid
(In-vitro comparison of normal high molecular weight HA and
Blue HA).

TEXTURE
A soft gel that turns into a rich foam
for a gentle cleansing experience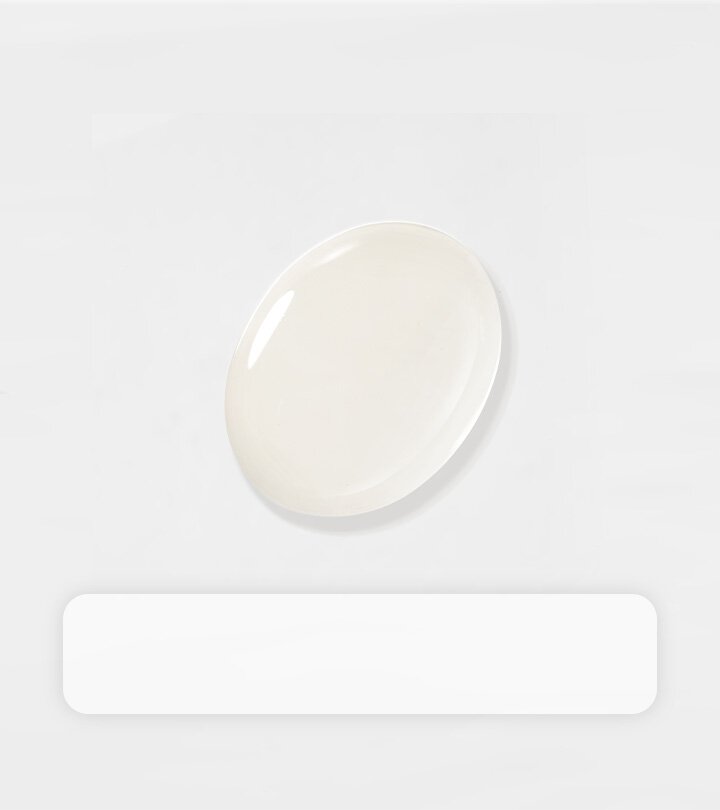 Sustainable Principles of Water Bank
All products Water Footprint
certified* to save water.

LANEIGE puts efforts into saving water
and ensuring efficiency in the use of
water resources by obtaining the Water
Footprint certification.

FSC paper used for all products.

LANEIGE uses FSC-certified paper for its
packages for a sustainable forestry.

Use of
sustainable palm oil.

This cream contains sustainable palm oil
produced without deforestation.

Increased biodegradability
of formulas.

This cream increased the content of
biodegradable ingredients to reduce the
product's impact on aquatic
environments and to focus on benefiting
the skin.


(Serum: 90.6% -> 99.0%
Cream for Normal to Dry Skin: 88.0% -> 89.0%
Cream for Oily to Combination Skin: 91.4% -> 95.6%

1) Limited to Cream (for Dry to Normal Skin & for Oily to Combination Skin),
Emulsion (for Dry to Normal Skin & for Oily to Combination Skin), Eye Cream and
Cleansing Foam.
*Measuring water consumption throughout a product's lifecycle
(material sourcing, production, shipping, usage, disuse).
-Water Footprint measurement certification: All Water Bank Blue Hyaluronic products
- Water Footprint reduction certification: Water Bank Blue Hyaluronic Cream
(for Normal to Dry Skin & for Oily and Combination Skin) and Serum
- Certifying body: UK's Carbon Trust
BEST ROUTINE
Repair & moisturizing routine
for an immediate skin transformation
STEP 1

Water Bank Blue Hyaluronic
Toner/Emulsion for Normal
to Dry Skin

STEP 2

Water Bank Blue Hyaluronic
Eye Cream

STEP 3

Water Bank Blue Hyaluronic
Serum

STEP 4

Water Bank Blue Hyaluronic
Cream for Normal to Dry Skin
All Ingredients / Precautions
WATER / AQUA / EAU, GLYCERIN, CAPRYLYL/CAPRYL GLUCOSIDE, LAURYL GLUCOSIDE, LAURYL BETAINE, PROPANEDIOL, DISODIUM COCOYL GLUTAMATE, XANTHAN GUM, CITRIC ACID, FRAGRANCE / PARFUM, SODIUM METHYL COCOYL TAURATE, POTASSIUM COCOYL GLYCINATE, 1,2-HEXANEDIOL, SODIUM CHLORIDE, DISODIUM EDTA, ETHYLHEXYLGLYCERIN, HYDROLYZED HYALURONIC ACID, ARGININE, ASPARTIC ACID, GLUTAMIC ACID, TETRASODIUM EDTA, TOCOPHEROL, UNDARIA PINNATIFIDA EXTRACT
1. Caution: For external use only. Avoid direct contact with eyes.
If contact occurs rinse thoroughly with water.
Discontinue use and consult a doctor if irritation occurs.
Keep out of reach of children.
We found other products you might like!