Cleansing foam that thoroughly washes off makeup residue and pore-clogging impurities with a bouncy and rich lather. 
Details
#Heavy makeup &
blackheads
Cleansing Oil
#Deep cleanser
for ultrafine particles
Cleansing Foam
Cleansing Gel Mild and clean #for dry and sensitive skin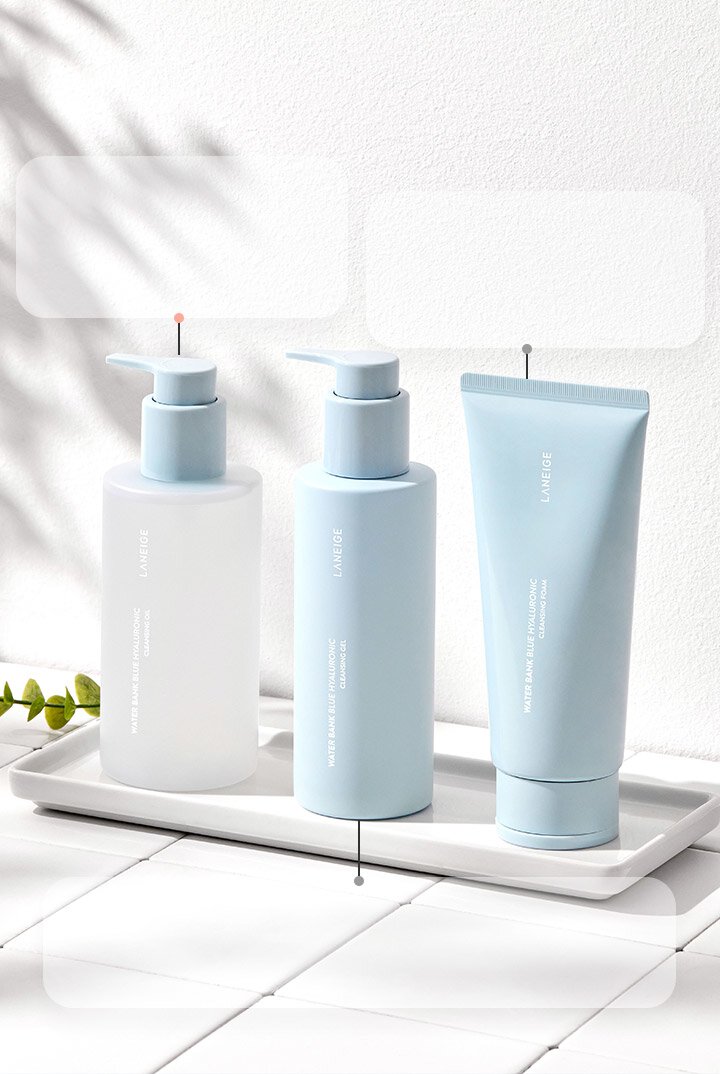 #1/2000 micro-sized hyaluronic acid*

#One-step deep cleanser

#Daily exfoliation
*Compared to the size of HA previously used by
LANEIGE (1,000kDa) with the smallest Blue HA (0.5kDa).
ALL NEW
Water Bank Blue
Hyaluronic
Cleansing Foam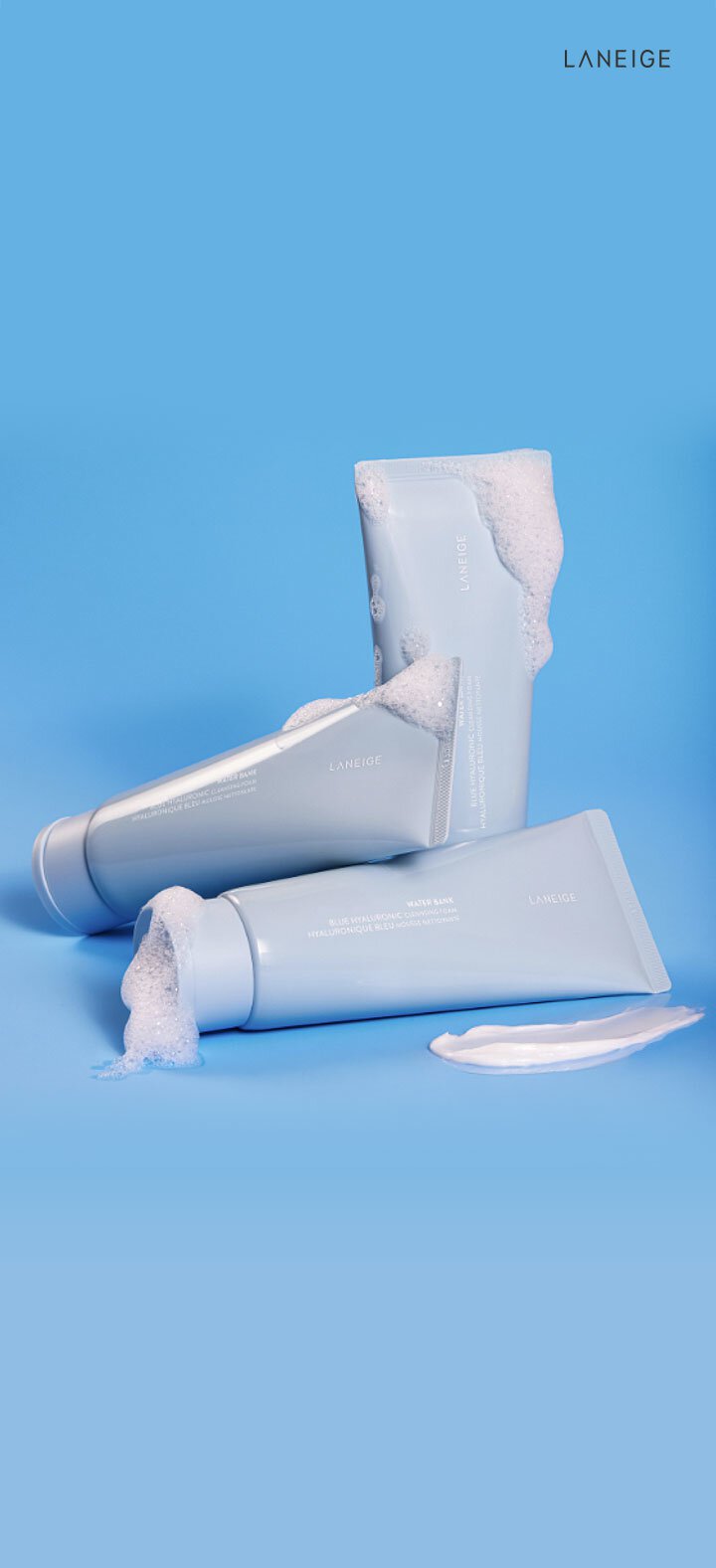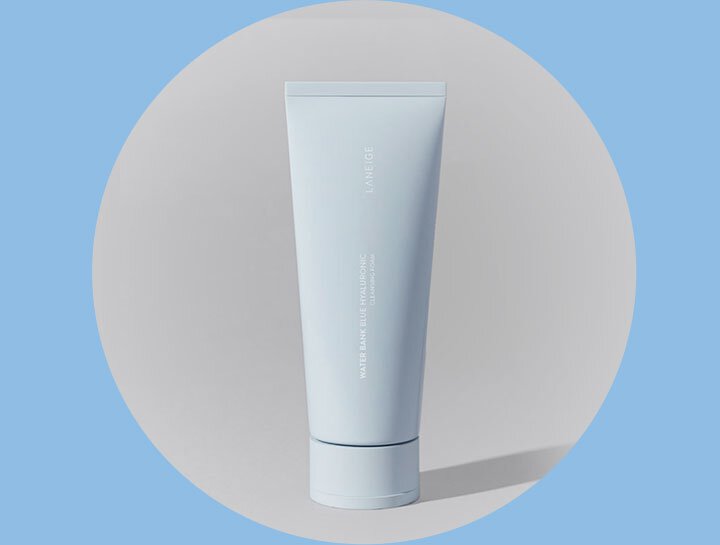 KEY
BENEFITS
01

Simultaneous removal of makeup residue and
skin impurities

A one-step solution with a bouncy lather to clear
away makeup residue, excess sebum on the skin
surface, and pore-clogging impurities.

02

Daily
exfoliation

Washes away dead skin every day with papain enzyme
for a brighter complexion.

03

Thorough removal of
ultra-fine particles

Clears the pores completely with Micro Beads
specialized for absorbing ultrafine particles.
Micro-sized Blue Hyaluronic Acid,
enhanced using LANEIGE's patented
manufacturing process
"The next gen hyaluronic acid, the Blue Hyalronic Acid. The extraordinary evolution of the hyaluronic acid. As the 7th generation, Blue HA is 1. Fermented twice using algae-derived fucoidan for amplified effects 2. Has 300% enhanced repair & moisturizing capabilities. 3. Concentrated and refined in 10 steps, condensed from a size of a water cup to a water drop at 0.5kDa. Being 1/2000 size of the original HA, the micro sized Blue HA instantly reaches the 10th layer of the skin 263 times faster deeper into the skin thoroughly and effectively. Fully repair and replenish your skin with Blue HA. ALL NEW Water Bank. Blue HA Cream & Serum"
01 Micro-sized Blue Hyaluronic Acid,
1/2000* the original size.
The difference in skin absorption comes
from the molecular size!
02 Repair and Replenish!
300%* improvement of a damaged
skin barrier.
*Compared the sizes of HA previously used by LANEIGE
(1,000kDa) with the smallest Blue HA (0.5kDa).
**Limited to the properties of Blue Hyaluronic Acid
(In-vitro comparison of normal high molecular weight HA and
Blue HA).

TEXTURE
"Water Bank Blue Hyaluronic Cleansing Foam texture 02"
Sustainable Principles of Water Bank
All products Water Footprint
certified* to save water.

LANEIGE puts efforts into saving water
and ensuring efficiency in the use of
water resources by obtaining the Water
Footprint certification.

FSC paper used for all products.

LANEIGE uses FSC-certified paper for its
packages for a sustainable forestry.

Use of
sustainable palm oil.

This cream contains sustainable palm oil
produced without deforestation.

Increased biodegradability
of formulas.

This cream increased the content of
biodegradable ingredients to reduce the
product's impact on aquatic
environments and to focus on benefiting
the skin.


(Serum: 90.6% -> 99.0%
Cream for Normal to Dry Skin: 88.0% -> 89.0%
Cream for Oily to Combination Skin: 91.4% -> 95.6%

1) Limited to Cream (for Dry to Normal Skin & for Oily to Combination Skin),
Emulsion (for Dry to Normal Skin & for Oily to Combination Skin), Eye Cream and
Cleansing Foam.
*Measuring water consumption throughout a product's lifecycle
(material sourcing, production, shipping, usage, disuse).
-Water Footprint measurement certification: All Water Bank Blue Hyaluronic products
- Water Footprint reduction certification: Water Bank Blue Hyaluronic Cream
(for Normal to Dry Skin & for Oily and Combination Skin) and Serum
- Certifying body: UK's Carbon Trust
BEST ROUTINE
Repair & moisturizing routine
for an immediate skin transformation
STEP 1

Water Bank Blue Hyaluronic
Toner/Emulsion for Normal
to Dry Skin

STEP 2

Water Bank Blue Hyaluronic
Eye Cream

STEP 3

Water Bank Blue Hyaluronic
Serum

STEP 4

Water Bank Blue Hyaluronic
Cream for Normal to Dry Skin
All Ingredients / Precautions
WATER / AQUA / EAU, GLYCERIN, MYRISTIC ACID, STEARIC ACID, PEG-32, POTASSIUM HYDROXIDE, PALMITIC ACID, LAURIC ACID, COCAMIDOPROPYL BETAINE, GLYCERYL STEARATE, PEG-100 STEARATE, MICROCRYSTALLINE CELLULOSE, FRAGRANCE / PARFUM, SODIUM CHLORIDE, DISODIUM EDTA, BUTYLENE GLYCOL, SODIUM BENZOATE, MENTHA ARVENSIS LEAF EXTRACT, HYDROLYZED HYALURONIC ACID, POLYCAPROLACTONE, TITANIUM DIOXIDE (CI 77891), PROPANEDIOL, 1,2-HEXANEDIOL, LACTIC ACID, PEG-75, POLYQUATERNIUM-10, LACTIC ACID/GLYCOLIC ACID COPOLYMER, ETHYLHEXYLGLYCERIN, ALUMINUM HYDROXIDE, TRIETHOXYCAPRYLYLSILANE, LYCIUM CHINENSE FRUIT EXTRACT, PANTHENOL, PAPAIN, RUBUS IDAEUS (RASPBERRY) FRUIT EXTRACT, VACCINIUM ANGUSTIFOLIUM (BLUEBERRY) FRUIT EXTRACT, COFFEA ARABICA (COFFEE) SEED EXTRACT, SAPINDUS MUKOROSSI FRUIT EXTRACT, VACCINIUM MACROCARPON (CRANBERRY) FRUIT EXTRACT, FRAGARIA CHILOENSIS (STRAWBERRY) FRUIT EXTRACT, RUBUS CHAMAEMORUS SEED EXTRACT, PHENOXYETHANOL, UNDARIA PINNATIFIDA EXTRACT
1. Caution: For external use only.
Avoid direct contact with eyes.
If contact occurs rinse thoroughly with water.
Discontinue use and consult a doctor if irritation occurs.
Keep out of reach of children.
We found other products you might like!