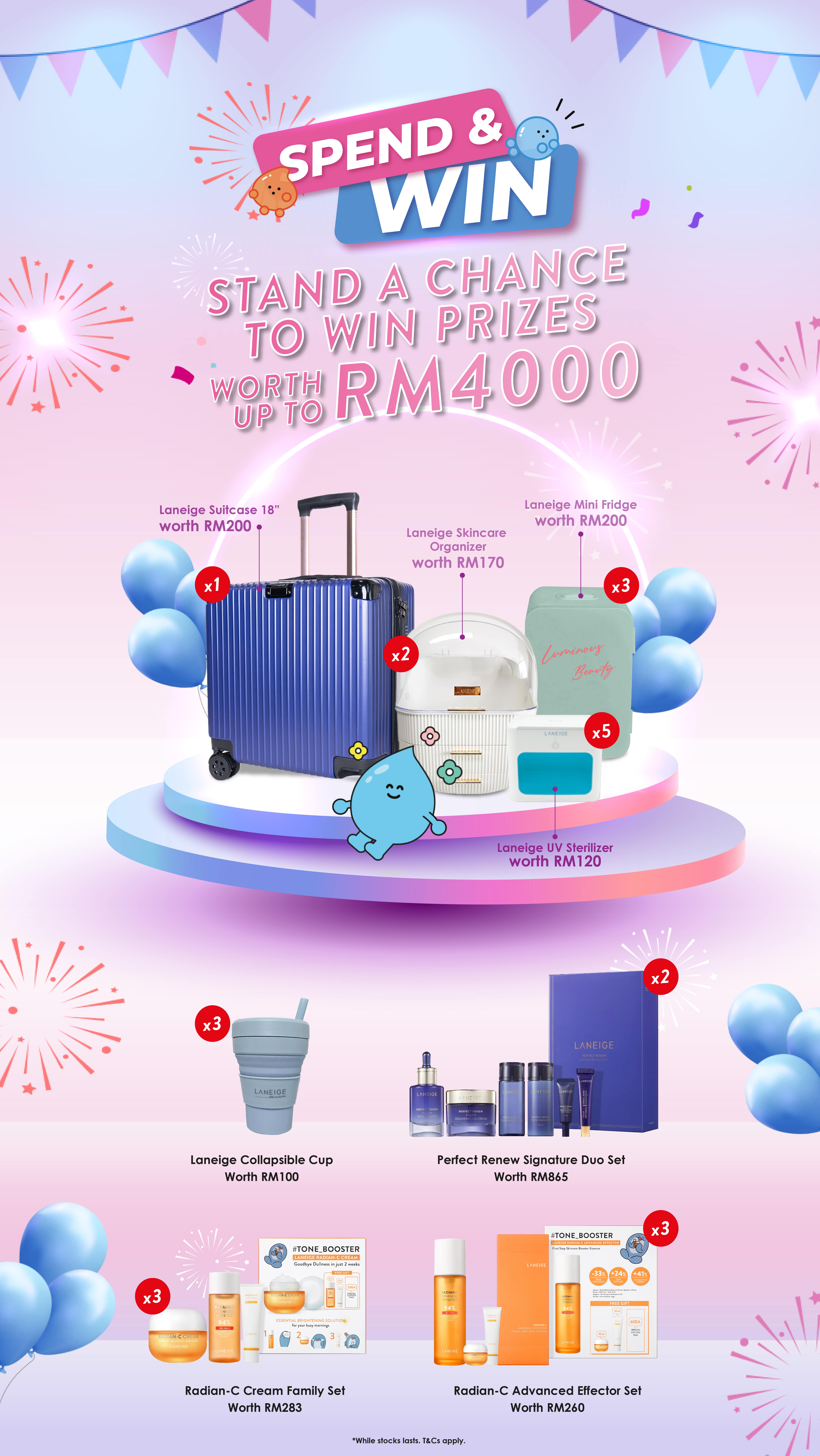 Entry
To be qualified for the Contest, participants are required to spend minimum RM 150 (net value after deduction of voucher or discount) in a single receipt on Laneige products in Laneige Official Store.
Participant (s) with successful transaction (s) made will immediately be considered as qualified entries.
Every winner is entitled to one (1) prize only.

Contest period
All orders made between 8 August 2022 (12.00am)– 24 August 2022 (11.59pm) will be qualified for contest entry.
Prize
Total of fifteen (22) prizes to be given to lucky winners during the Contest Period. Winners will be picked randomly.
Laneige 18" Suitcase – worth RM200 x 1
Laneige Skincare Mini Fridge (Mint) – worth RM200 x 3
Perfect Renew Signature Duo Set – worth RM865 x 2
Laneige Skincare Organizer - worth RM170 x 2
Laneige UV Sterilizer - worth RM120 x 5
Laneige Collapsible Cup – worth RM100 x 3
Radian-C Cream Family Set – worth RM283 x 3
Radian-C Advanced Effector Set – worth RM260 x 3

Announcement
Contest winners will be announced on 12 September 2022 in Laneige Official Store.
Prize Redemption
The prizes will be delivered to the winner's shipping address within 14 working days upon winners' announcement.
General Terms and Conditions
Laneige Malaysia reserves the right to disqualify and / or exclude Participants and/or revoke the Prize if: -

The Participant is ineligible or does not meet any of the eligibility criteria set out in the above; or
The Participant does not provide the required details upon receiving the request / notification from Laneige Malaysia; or
The Participant breaches the Terms and Conditions or other rules and regulations of the Contest or violated any applicable laws or regulations; or
In Laneige Malaysia's sole determination, it believes that the Participant has attempted to undermine the operation of the Contest by fraud, cheating or deception.
Participant is allowed to make multiple order above RM 150 in a single receipt under the same buyer contact number.
In the event of the disqualification takes place after the announcement of winners, there will be no selection of replacement of the disqualified winner.
Prizes are not transferable or exchangeable in any other forms subject to such terms and conditions which Laneige Malaysia may in its sole discretion impose.
Laneige Malaysia reserves the right to amend the Terms and Conditions contained herein, where necessary for legal, technical or commercial reasons and any such amendments shall be effective upon posting on Laneige Official Store.
Laneige Malaysia will not be liable for any losses/ damages encountered by winners during prized redemption.